Club Shop
CLUB SHOP (scroll to bottom for race wear)
AVR Wear is supplied by Sportsbug for outer wear and at Club for race wear and Polos.

Sportsbug Limited - Head Office/Trowbridge store
8 Fore Street
Trowbridge
Wiltshire
BA14 8HD

Tel: 01225 767020
Fax: 01225 761313
Email: info@sportsbug.co.uk


Sportsbug - Melksham (closed on Wednesdays)
31 Bank Street
Melksham
Wiltshire
SN12 6LE
Tel:01225 791317
Opening Hours:
Monday to Friday 9.30am-5.00pm
Saturday 9.00am-5.00pm
Sportsbug stock the following two items of club wear:-
AVR Hoodie £24
AVR Jacket £24    
AVR Kit Manager stocks the rest of the AVR kit.  Please contact Richard Southgate to arrange purchase kit@avonvalleyrunners.org.uk :-
AVR Polo Shirt £10 (Short sleeve Black collared Polo shirt with yelow logo, not pictured).
AVR Race Vest £17                     
 (for style only)
AVR Race T-Shirt £19          
New AVR Vest £20      
Front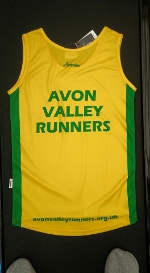 Back
New AVR T shirt £21     



with sleeves
All the above kit is kept in stock but we do order other running items from time to time but these are for one off orders only.
---